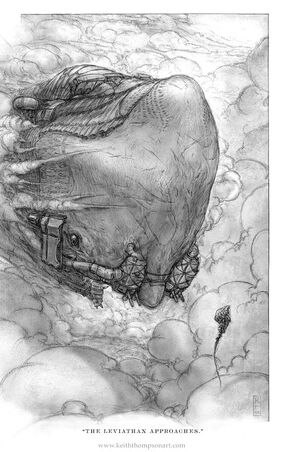 Fabrications (also known as beasties or fabs) are bio-engineered creatures made by the Darwinists. Charles Darwin discovered how "life-threads" (DNA) worked, which enabled him to be the first to fabricate creatures. They usually look like combinations of other, natural, creatures. Sometimes, these creatures are used together for one purpose in an mini-ecosystem, such as on the Leviathan, where many creatures work together to provide food for others.
Such fabrications include: the perspicacious loris, elephantines, tigeresques, the Leviathan, Huxleys (or medusas), Eddie Malone's firefly and recording frog, message lizards, glowworms, strafing hawks, and hydrogen sniffers.
Clankers dislike fabricated creatures, and some claim that they are acts against God. Among the Darwinists, there are also Monkey Luddites who believe that fabrications are evil or are simply very uncomfortable around them.
All fabricated creatures hatch from eggs.[1]
References
Edit