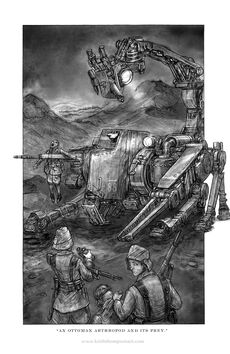 Sand Devils are scorpion-shaped military walkers utilized by the Ottoman Empire to patrol the beaches. There are spotlights and a machine gun in the tail of the walker, and the scorpion has two claws which can grip a person.
In the series
Edit
A Sand Devil is used by Ottoman soldiers to capture Deryn's men during her mission to plant vitriolic barnacles in the Straits of Gallipoli. The machine kills two of her men by shooting them, and picks up one of the bodies. Its lights sweep across the beach, and Deryn retreats into the water.
Ad blocker interference detected!
Wikia is a free-to-use site that makes money from advertising. We have a modified experience for viewers using ad blockers

Wikia is not accessible if you've made further modifications. Remove the custom ad blocker rule(s) and the page will load as expected.