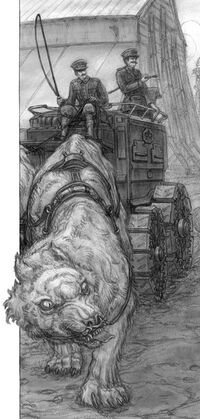 Tigeresques are a type of fabricated beast. They are used as both guard animals and as draft animals. Tigeresques are fabricated from the life-threads of wolves and tigers, as well as the life-threads of other creatures.
In the series
Edit
In Leviathan, they were used at the by the boffins to find which of the recruits were Monkey Luddites. Deryn is not frightened, however, and reminds herself that they are one of the most tame sorts of fabricated beasties, as they are made from the life-threads of cat and dog-like creatures. Deryn at first mistakes Tazza for a type of tigeresque.
In Goliath, Alek notices a Siberian tigeresque being used as a guard at Vladivostok, and recalls that they were fabricated from the life-threads of an extinct beast, presumably the Smilodon, (Saber-tooth Cat), instead of modern cats. Siberian tigeresques have long fangs, unlike lupine tigeresques.
Ad blocker interference detected!
Wikia is a free-to-use site that makes money from advertising. We have a modified experience for viewers using ad blockers

Wikia is not accessible if you've made further modifications. Remove the custom ad blocker rule(s) and the page will load as expected.